At CAST, we relentlessly pursue the opportunity to enable our users with the visibility into software, which is otherwise deemed as a "Black Box". We believe that an organization can gain immense business benefits from this visibility as this enables the teams to make an informed decision about their software. Over the past 25 years, we have built an unparalleled capability that enables our customers to understand the Software's inner structure, Health, critical flaws, Functional and Technical size. Many of these insights also get packaged and considered in IT management and CIO Dashboard metrics.
Management Visibility into software health
Management Visibility is one of the main use cases that we primarily focus on. The goal for us is to provide visibility to the management team including the CIO. Those who are familiar with CAST and its offerings, CAST AIP CAST Management Dashboard is the product that caters to this use case. CAST Management Dashboard provides insight for digital leaders to protect their business, make better IT investments, communicate with stakeholders, and drive team performance. CAST Management Dashboard is equipped to provide insights at both portfolio and application levels to help management teams make informed decisions on cost, budget, investment strategy, app performance, vendor management, or modernization needs.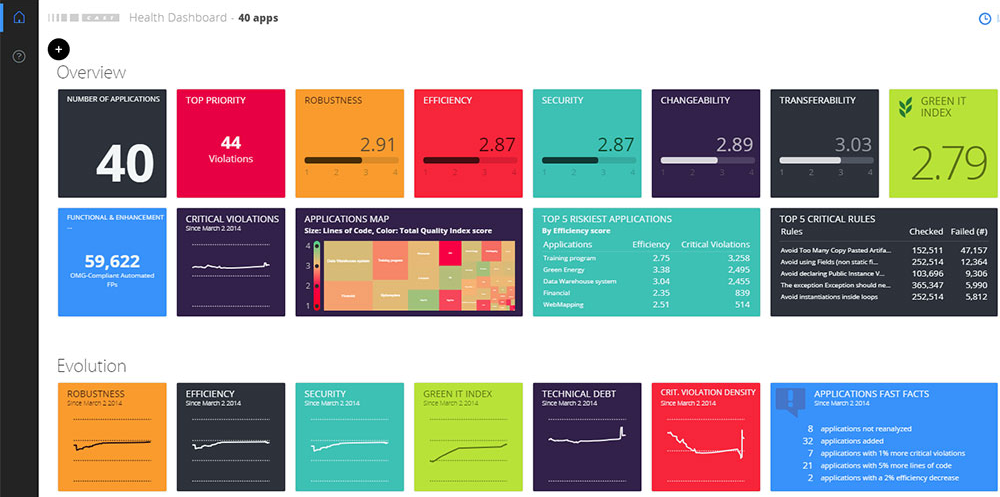 Fig – 1 CAST Management Dashboard portfolio view
However, CIO dashboard metrics often include more elements than just System Health, Size, Flaws
Often a CIO needs to keep track of other critical metrics along with Software Health. System availability, Hardware capacity, Headcounts, Production bugs, Major project milestones to name a few. We understand, while the CAST data is an important element for a CIO to consume, it is often painful for a CIO to log into a separate CAST Dashboard and explore the information.
Thus, we realize that there is a need to have a more flexible reporting option with CAST AIP data.
Flexibility to change the metrics representation is another feedback that we receive from our customers, where the off-the-shelf BI tools such as Tableau, Power BI come very handy. Every organization has different needs when it comes to reporting or data visualization. While we try to provide most possible actionable insights through CAST Dashboards, it often falls short to cater to all different expectations that we receive from various customers.
In order to address the aforementioned needs, with Dashboard release 1.12, we have unveiled a new way for our users to expose, explore and integrate their application data for management reporting. We are calling this capability "AIP Datamart".


A brief about AIP Datamart
AIP Datamart provides an Extract-Transform-Load mechanism to expose almost all key CAST AIP metrics, which can be plugged into any off-the-shelf BI tools and can be used for management reporting. AIP Datamart enables users to integrate CAST data easily to an existing CIO Dashboard or users can bring in other external data to integrate them with the CAST data that can be plugged into a new Dashboard. Basically, this makes the management reporting a lot easier.
CAST AIP Datamart employs an ETL mechanism to extract, transform, and load the CAST AIP data in AIP Datamart. In the DataMart, users have the flexibility to select the data that is useful based on organization needs. Customers have the option to inject non-CAST data as well into the Datamart and create derived metrics.

Fig – 2 Architecture of CAST AIP Datamart
Key features of AIP Datamart
A robust and flexible Data structure that contains almost all key CAST AIP metrics.
A robust ETL mechanism for faster deployment and less effort to maintain.
A new set of API services with streaming mode for faster extraction.
Easier integration with off-the-shelf BI tools.
Flexibility for users to select data that are relevant for the customers.
Ability to integrate with external customer data.
Ability to create derived metrics that aligns with customer business practice.
Flexibility to customize the data structure that fulfills client reporting needs.
Support for custom rule groupings.
Support for various Industry Standard Tags.

Key benefits of AIP Datamart

Integrate CAST data easily into any management and CIO Dashboard metrics
Ability to add external metrics to create derived metrics out of CAST data. For example – Cost/Enhancement function point. While at CAST, users can consume the Enhancement function point information, we do not store the cost information. Users can add cost information to AIP Datamart and create the derived metrics to track.
Flexibility in reporting and data consumption - Integration with off-the-shelf BI tools enables users to see the data the way they want to see it.
Enrich CIO Dashboard metrics with CAST AIP metrics
With AIP Datamart, our customers will now have access to all CAST AIP Metrics that they can explore and have the option to integrate with their own data (cost, effort, etc.) to create derived metrics for CIO Dashboards. This data can not only be used for effective and customizable visualization as per client needs but also unlocks the opportunity for our clients to use machine learning to predict the various probable outcome.
Here is a sample Software Intelligence Dashboard that is created from Datamart in Power BI.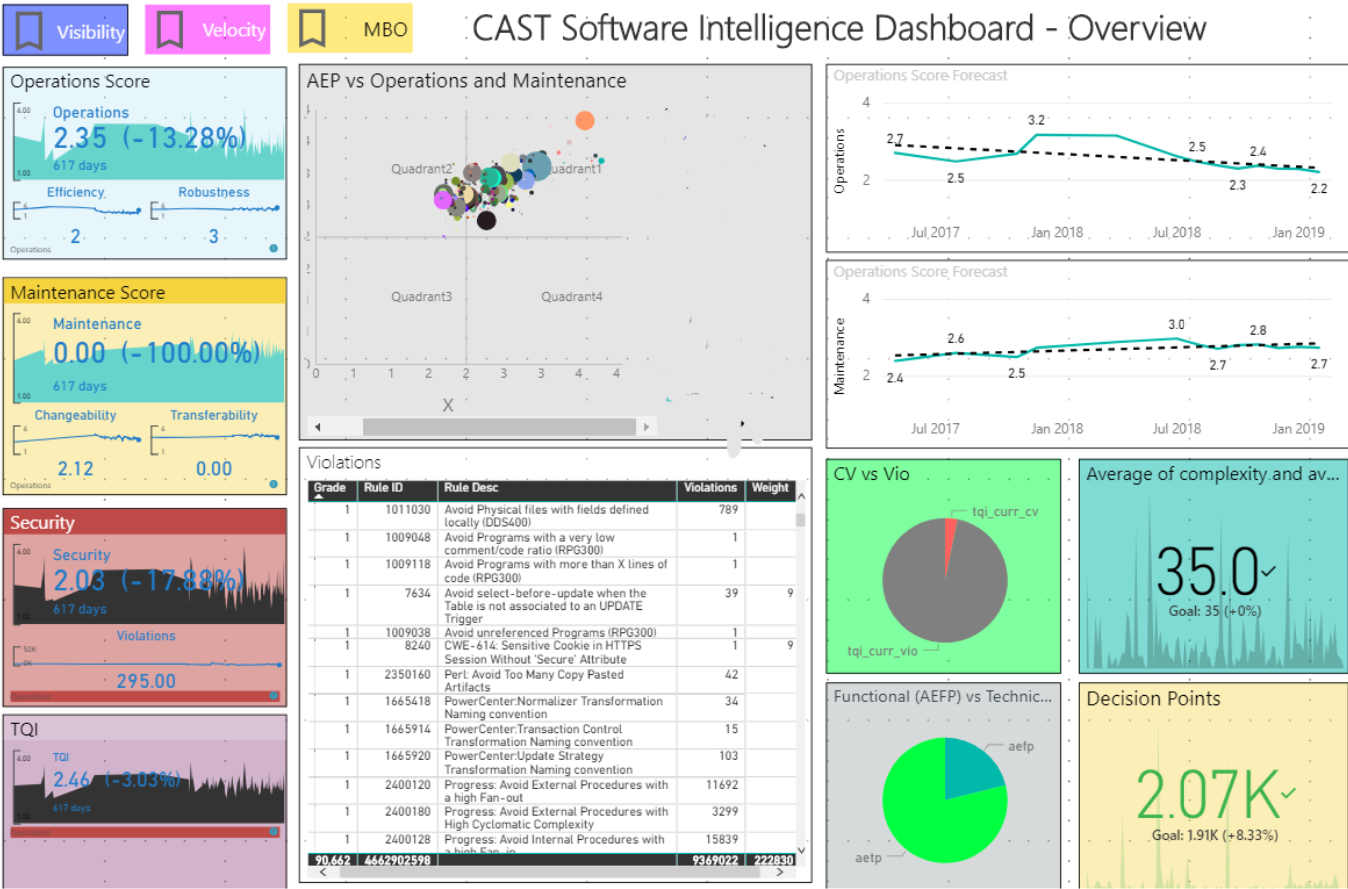 Providing Software Intelligence (The visibility into the software) is the mission that drives us every day. We believe, AIP Datamart capability is a great leap towards that mission.
If you are an existing CAST AIP user, please connect with your account managers/consulting teams to know more about the AIP Datamart capability and how it can enhance your CIO Dashboard metrics.
If you're not a current AIP user but would like to learn more about the CAST capabilities, sign up for a free demo here!
For any feedback and feature request, please visit here. We are listening!