Against a backdrop of exponential investment growth in modernization, some of the world's largest companies are supercharging their digital transformation initiatives with the software industry's best kept secret. Are you?
Against a backdrop of exponential investment growth in modernization, some of the world's largest companies are supercharging their digital transformation initiatives with the software industry's best kept secret. Are you?
Of all the B2B technology buzzwords of the last decade, "digital transformation" was arguably the most overused and abused. With the 20's, the once catch-all term has become clearer and more concrete against a backdrop of increasing focus on modernization for cloud-related initiatives. Consequently, the question is "when" rather than "if" today's technological market leaders will modernize—or to put it another way, how fast?
The race is on like Donkey Kong; in November, McKinsey (in their zero-words-minced article title) put the situation starkly: "Projecting the global value of cloud: $3 trillion is up for grabs for companies that go beyond adoption" [emphasis mine]. According to the consulting giant:
[Large enterprises] aspire to have roughly 60 percent of their environment in the cloud by 2025.
Given the scale of this aspiration, business and technology executives are asking themselves:

How big is the value at stake in my industry?
How quickly will value be captured, and who will capture it?
What can I do to make sure my company captures more than its fair share of the value?
Broadly speaking, the consulting giant segments the value into three buckets: rejuvenation (cost optimization, resilience improvement, core operational achievements), innovation (accelerated product development, automation, scalability) and pioneering (embracing iteration a.k.a. "fast failure"). This isn't the place to comment on the report methodology but suffice it to say there's a LOT of money in the cloud.
Global research and consulting firm Verified Market Research pointed to the same trend, projecting that the global application modernization market alone is expected to reach $30 billion by 2026.
The stakes couldn't be much higher. So, what are the major needs, obstacles, and methods around transformation, and how can enterprises maximize acceleration as we move further into the 20's?
Going beyond the unsustainable status quo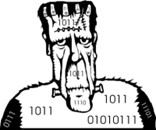 Enterprise software has become a runaway Frankenstein's monster
In its recent whitepaper "Back to the Fundamentals" app innovation report, cloud giant Microsoft Azure asked the question point blank— "What do people need most from the apps and software they use on the job and which innovations are most meaningful to them?"
Three of the top five needs included elimination of repetitive input, more informed interactions, and more meaningful conversations. "There are too many silos or different types of tools that don't talk to each other…It creates a huge amount of duplication in work," one COO remarked.
Real graphs from Amazon and Netflix
The cruel irony is that this is the accepted status quo around major enterprise applications. Those built over years or decades containing hundreds of thousands or millions of lines of code have an unsustainable amount of complexity; for legacy reasons inherent to building enterprise apps, many have become veritable rats nests, with tech debt costing the U.S. an estimated $1.52 trillion in 2022.
Asking a new developer to start working on these kinds of apps is akin to dropping an expeditioner at a random point on a foreign continent and asking her to navigate to the largest metro with (at best) a rudimentary paper map. It's not for nothing that many developers spend over half their time researching applications rather than making changes to them. It gets worse. According to Gartner, digital transformation leaders in their "Magic Quadrant for Custom Software Development Services" report face a "significant crunch of digital talent" with 18% average attrition rates. Every year, nearly one in five technologists is working from a brand-new slate in a kind of Kafka-esque Groundhog Day.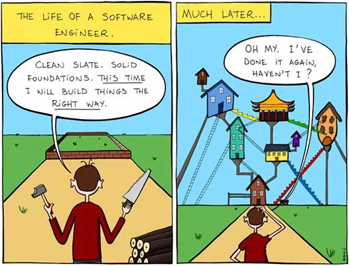 Image credit: http://themetapicture.com/the-life-of-a-software-engineer/
At the risk of overstating the obvious, this is not the way to win the race to capture maximum digital transformation market share. Some of the biggest firms know this. And they have a secret weapon.
Software intelligence: making the invisible visible
Not surprisingly, those best positioned in aforementioned the Gartner report–Accenture, IBM Consulting, Deloitte, and DXC–take advantage of software intelligence—insight into their clients' enterprise software inner workings.
In practice this means they arm their teams with actionable and manipulatable application maps, enabling drilling down into single code lines. Consequently, they can onboard new developers up to 50% faster and perform modernization tasks up to 25% quicker.
These edges are by no means insignificant. Pushed to the limit, these game-changing transformative capabilities will mean a key difference between the digital transformation winners and also-rans. Instead of a manual-intensive ad hoc approach to maintenance, onboarding and modernization, software intelligence capabilities take the repetitive burdens off developers' shoulders and enable them to bring their greatest potential to the table while enabling leadership to make better informed fact-based decisions.
Coming back to the Azure report, this addresses a key demand of modern technologists–the desire to streamline tasks so they have more time to contribute their unique value. "Software that takes care of lower-impact tasks can allow people to concentrate on areas where they can truly shine—and in turn, make their jobs more rewarding," the report says.
By helping technologists shine to their greatest potential in this way, software intelligence will usher in a new era of clarity, creativity, and collaboration. As more and more organizations adopt these capabilities, accelerating speed to cloud, we'll achieve new innovation heights. And above the summit new peaks will emerge.