From May 14th to 16th, nearly 2,000 IT professionals came together in Las Vegas for the Gartner Application Innovation & Business Solutions Summit, Gartner's annual conference aimed at application and software engineering leaders.
The event proved to be a dynamic platform for hearing and sharing the latest insights into application strategies, software engineering leadership, and emerging technologies as attendees connected with world-class Gartner experts and thousands of industry-leading software engineering and application peers in an environment built for dialogue.
Despite the scorching heat and windy weather, attendees, including our team of seven from CAST, spent most of the time engrossed in conversation and learning, either in conference rooms or on the show floor.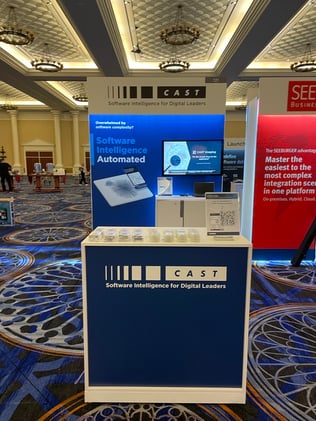 One of the main conference topics concerned what was termed "the modernization challenge." Many attendees face the daunting task of dealing with outdated software systems, some of which are 15, 20, or even 30 years old, comprising millions of lines of code, and employing ancient technologies like COBOL and RPG. Modernization has become an imperative due to skill shortages in legacy technologies, a lack of business agility, and high operating costs. But the stakes are high as these systems support critical business processes—erstwhile modernizers must be careful with these "crown jewels" upon which critical business processes rely.
Given this context, many attendees were eager to explore the benefits of software intelligence technology, given its capability to enable rapid discovery while 'understanding' of complex software systems, making it hugely valuable as firms complete initial modernization steps. CAST Imaging caught the attention of several attendees given its ability to provide easily digestible information around the impact of structural changes to applications.
Reducing cognitive load and closing the knowledge gap
Another major theme discussed at the conference was developers' cognitive load—the total mental effort utilized in a person's working memory–and how to alleviate it. Excessive cognitive load can hinder a software team's ability to effectively deliver and maintain products given its potentially corrosive effects on the developer experience (DX) with lower productivity, retention, and morale. Various Gartner analysts emphasized its significance in their presentations with platform engineering emerging as a key trend in 2023, aiming to reduce its negative effects.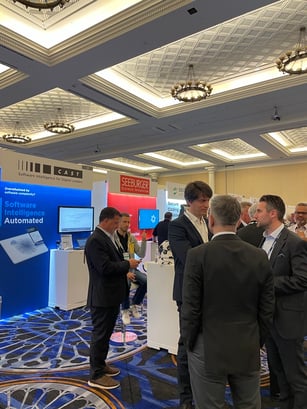 Surprisingly, many conference attendees admitted to lacking or having lost knowledge about their own applications—more precisely about their inner workings. Documentation was often inadequate, outdated, or difficult to search. Stack Overflow, one of the exhibitors, highlighted the importance of knowledge by showcasing their new product, Stack Overflow for Teams, which provides a private space for software engineers to ask questions, share knowledge, and learn collectively.
In all, the conference was one of fostering connections with new enterprises, public organizations, and eminent industry analysts. It demonstrated the growing interest in software intelligence as a solution to pressing challenges faced by software engineering professionals worldwide.